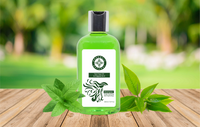 Tea Tree oil & Papermint Shampoo
Greenviv natural shampoo gently cleanses hair with a rich lather, without the addition of sulfates or stripping your hair color. This 100 percent vegan and sulfate-free formula is designed with dry, color-treated hair in mind. Color-protecting shampoo helps to revitalize, hydrate and strengthen dry, damaged hair. Perfect for normal to thick hair types, greenviv natural hair care products work together to protect your hair and prolong your color's life span. Aromatherapy fragrance: Signature aromatherapy blend of tea tree and peppermint scents helps you feel salon-fresh, even at home.
Shop Now
Sea Breeze Handwash
Hand Wash for Silky and Smooth Hands The Lemongrass Hand Soap from Greenviv gently removes impurities while rebalancing the skin. The unique formula soothes your skin for a relaxing wash experience. Inspired by nature and infused with potent ingredients, this hand wash is for all skin types and is made with all natural ingredients. The crisp aroma from Lemongrass, Eucalyptus and Rosemary oil is stimulating, relaxing, soothing and balancing.
Shop Now